When thinking about this post, I realized I didn't know much about St. Patrick's Day. I ended up doing a little research.
St. Patrick (known as Patricius) was the Patron St. of Ireland. I think most of us have heard this. But did you know he wasn't originally from Ireland? He was born in Roman Britain in the late 4th century. Captured by pirates at the age of sixteen, he was sold into slavery in Ireland. He later escaped and returned home, but soon travelled back to convert the Irish to Christianity. St. Patrick is considered one of the most successful missionaries in history.
FUN FACT: Patricius used the three leaf clover to teach the Irish about the Father, Son and the Holy Spirit. 
A FEW MORE FACTS: 
Blue was the color originally associated with the holiday.
Immigrants to the United States transformed St. Patrick's Day into a secular holiday.
The first parade was held in Boston in 1737 followed by NYC in 1762.
Since 1962 Chicago has colored its river green.
(My favorite fact) Ireland adopted these practices primarily to benefit tourists.
St. Patrick died on March 17. I was fascinated by the history and hope you are too.
Have you made your St. Patty's Day plans? There's plenty to do in the Holy City. Here's a very short  list of activities you may wanna add to your itinerary: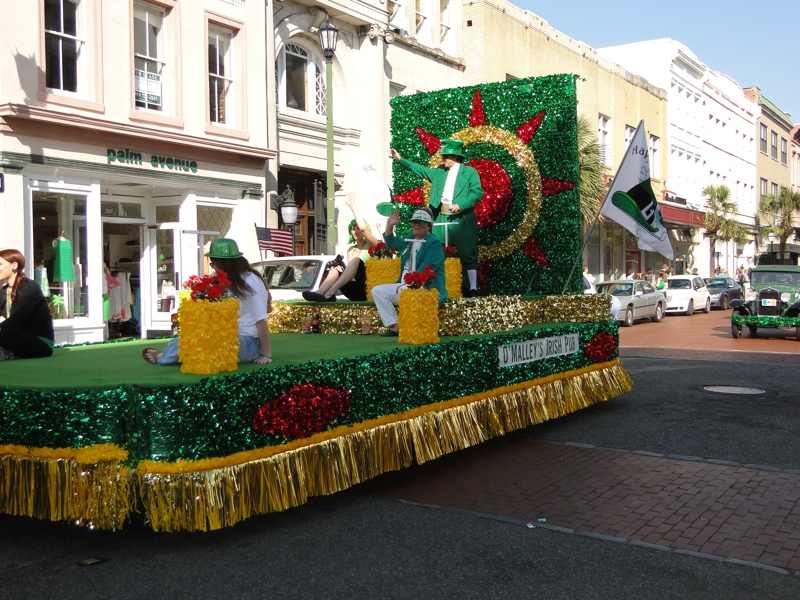 Charleston St. Patrick's Day Parade – The parade will be held on Tuesday, March 17 at 10am. It will begin at St. Patrick's Catholic Church and continue down King St., ending at the Cathedral of St. John the Baptist. Fire trucks, military units, team mascots, marching bands and dancers are just a few of the highlights in this year's festive line-up. Stick around after the parade (around 11:30 ish) – Charleston City Hall will raise Ireland's Tri-Color flag. Afterwards, enjoy St. Paddy's Day specials at a variety of restaurants and bars downtown.
Park Circle St. Patrick's Day Celebration
Saturday, March 14, 7:30am – 1:30pm
4262 Spruill Ave, North Charleston
St. Patrick's Day at Tommy Condon's Irish Pub
Saturday, March 14 – Wednesday, March 18 at 1:00am
160 Church St, Charleston
Doors open at 9am on the 14th and the party will continue until 2am each night! Swing by for live music and a special St. Patty's Day menu. Don't forget to wear your green!
St. Patrick's Day Pupsicles 
Park Pets 1021 E. Montague Avenue Suite 101, N. Charleston
Saturday, March 14, 10am – 1pm
Green Popsicles will be available for your furry friend for $3 – $5 – made from Green Juju, a whole foods supplement for dogs.
3rd Annual St. Paddy's Day on King Bar Crawl 
The Brick, 24 Ann St, Charleston
Saturday, March 14, 11am – 8pm
Some of the hottest bars are ready to hook you up with priority entry and incredible drink specials! They're giving away a St. Paddy's Day t'shirt to the first six hundred people to arrive at check-in. The first seven hundred get an event koozie! You will check in at The Brick or Mynt (you choose when you secure your ticket) between 12pm – 4pm. Click here to purchase your ticket! Participating bars: The Brick, Beer Works, Silver Dollar, Republic, Trio, Mynt, Burns Alley and John King.
St. Patrick's Day Party
Bohemian Bull  1531 Folly Rd., Charleston
Saturday, March 14, 5pm – 8pm
Live music by Live Radio, $5 pints, $6 Car Bombs, $5 shots of Jameson + food specials!
St. Patrick's Day Lucky Leprechaun Hunt
Bizzy Bee Indoor Play Center  7671 Northwoods Blvd. Suite A, N. Charleston
Tuesday, March 17, 8:30am – 5:00pm
They give clues and you find the treasure! Goodie bags and crafts will be ready for participants after the hunt (while supplies last). $12.95+tax includes all day play!
St. Patty's Day Greenfest
Ink & Ivy, 565 King St., Charleston
Tuesday, March 17, 5pm – 10pm
Get your green on and come ready to celebrate St. Patrick's Day!
St. Patrick's Day Weekend Blowout
Holy City Brewing  1021 Aragon Avenue, N. Charleston
Saturday, March 14, 12pm – 5pm
Cowboy Mouth w/ special guests, 21+ to attend – click here for tickets! This is NOT a party you want to miss!
We thought we would highlight a handful, but it's nowhere near a complete list of the events taking place on and around St. Patrick's Day! Be sure to tag us @charleston360 and #charleston360 so we can see your photos!